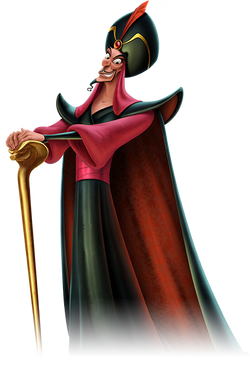 To say that the scheming Jafar is a nasty piece of work would be true, but might be misleading: His portrayal is rather a good piece of work. That he is evil, we are in no doubt; he is the worst sort of traitor, betraying the Sultan while pretending to be a faithful advisor. In a cruel mirroring of the Genie's earlier shape-shifting performance, he goes through quite a terrifying diversity of threatening forms in the movie's climactic scenes, as Aladdin does battle with him to save the Sultan and Jasmine from his enchantment. But Jafar's greatest moment of cruelty comes early in the movie when Jasmine is seeking out her true love; with utmost callousness, Jafar lies and tells her that Aladdin has already been executed.

With his broad shoulders, his elastic mouth, his haughty eyebrows, and his expressive hieroglyph of a beard, Jafar is evil at its most cunning. Film: "Aladdin" (1992) Voice Artist: Jonathan Freeman


Jafar sings your favourite disney villain song called You're only second rate (The return of jafar) from Aladdin and the king of thieves.
Community content is available under
CC-BY-SA
unless otherwise noted.